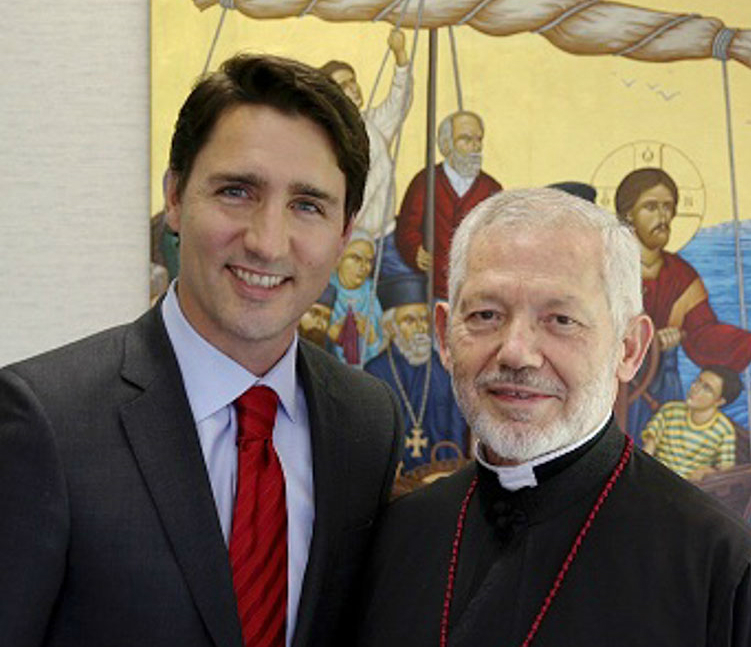 To the Reverend Fathers,
Honourable Presidents and
Esteemed members of the Community Councils,
Philoptochos Societies, Teachers, Students and
Youth of our Communities,
And the entire Plenitude of our
Greek Orthodox Metropolis of Toronto (Canada)
October 28, 1940
Freedom - No - Refugees
Freedom is a God-given blessing. Since God has bestowed this gift upon humanity, no one has the right to deprive anyone of it. One cannot and should not usurp the rights of God.
Unfortunately, in the history of mankind, there have been and there are individuals who have tried to appropriate the rights of God. They do this in the name of atheism or sometimes in the name of some false 'god'. But there are no other gods. There is only one true God. This one true God bestowed this gift of freedom upon His creation, and does not want anyone to take away this freedom from His people. They who attempt to deprive this gift of freedom from any other person in the name of their own god, prove that the god they worship is false and not true.
In 1940 two brutal dictators - Mussolini and Hitler - wanted to usurp this gift of freedom - not just from a few people, but from humanity in general. On October 28, 1940, Mussolini demanded in a deceitful and cunning manner, that he and his military might be given free access to Greek territory. The Greek people, who are always prepared to sacrifice anything for freedom, responded immediately with a resounding NO to the menacing Axis power through the voice of the then Prime Minister Ioannis Metaxas. The aftermath of this incident is well known. It is a fact that Greece and the Greek people suffered greatly from 1940 to 1949 during the Second World War and the wrenching Civil War that followed it. These trials and tribulations of the Greek people did not cease in 1949 or 1950, but they continued afterwards with poverty and many other misfortunes. The main cause of calamity and misfortune ended with the close of these two wars, and the Greek nation began to steadily move forward.
Every free person must freely choose to do the right thing. Every person is responsible for his or her actions and should be very careful when they make choices. They should be willing to say "yes" to everything that is positive and with the same certitude to say "no" to everything that is negative. Saying yes and no both have their own consequences. The free person must always be ready to confront them.
Today the entire world is shocked with the problems arising from the steady stream of refugees who are coming mainly from Syria and Iraq, but also from other countries. In these countries, unfortunately, certain groups are attempting by force to impose their own will and personal agenda in the name of some false god upon an innocent people. Having lost their own way and being destitute in life, they forcibly drag countless numbers of their countrymen into misery and servitude. Jointly responsible for this evil are the mighty and powerful Leaders of civilized nations who could have intervened in this mess to impose some kind of law and order. Instead, they cater to their own personal interests and agendas, and care less or not at all for the freedom and happiness of these unfortunate peoples. All together, they are responsible for aiding and abetting slavery, misery, the uprooting of peoples from their ancestral homelands, and for the refugee crisis that is still continuing with no end in sight. It is obvious and apparent to all how much the refugees are suffering.
On the issue of the refugees, there is also another dimension to the problem. Those who, in the name of a false "god", enslave, slaughter, uproot, and create the refugee crisis - they also have another nefarious purpose. They are attempting to take over and subjugate the free Christian democratic countries of the West in the name of their false "god". This question should be asked: why is it that all of these refugees from Iraq, Syria, and Libya are going only to Europe, and not to such prosperous Muslim countries, such as Qatar and Saudi Arabia?
No matter the reasons, it is a fact that these refugees are suffering and it is our Christian duty to help them. But it is just as necessary for the powerful leaders of the world to open their eyes to the problem and to act so that justice and order prevail. This must be done as soon as possible in order to avoid worse evils and so that justice prevails and injustice is halted. World leaders must act now to avoid the enslavement of humanity in the name of some false "god".
We here in Canada live in the land of opportunity. We enjoy all the benefits and blessings of a free and democratic nation and above all, freedom itself. As Greek Orthodox Christians, we can freely speak our language, practice our faith, and pray to the Almighty True God. We are free to organize ourselves and to build and enjoy our Churches. We are free to perform our religious duties and to practice and promote our Christian faith.
Seventy-five years after saying the famous "OXI" in 1940, which was followed by occupation and slavery to enemy forces, we must think seriously. We should never forget the sacrifices that our ancestors made for our freedom. Think about where we would be today if the dictatorship and slavery brought about by the Axis powers in Europe during the Second World War were allowed to continue. Let us not surrender to opulence and the ephemeral pleasures of life. Let us never forget that "pleasures may be enjoyed for a while, but all great empires perished on the soft bed of opulence."
This is what the "NO" of 1940 means for us Greek Orthodox Christians who live in Canada: saying "No" to assimilation; Saying "No" to the abandoning of our Orthodox Christian faith in the One and Only True God; saying "No" to the loss of the Greek language by our children, our grandchildren and future generations. It means saying "Yes" to honest work and ethics; saying "Yes" to involvement in the life of our Greek Communities; saying "Yes" to the establishment of new Churches and Communities; saying "Yes" to our Greek Orthodox schools; saying "Yes" to ensuring that our children, our grandchildren and the future generations to come may be able to live and thrive within our communities. We should make every effort to ensure that our Youth will be educated in our Greek Orthodox schools; that they remain committed to their Greek Orthodox faith and devoted believers in the True God, who is our Lord Jesus Christ - the only Redeemer and Saviour of the world.
On this 75th anniversary of the heroic "OXI" of 1940, I invite you all to celebrate this National Holiday united in one accord: with one soul, one heart, with devotion to freedom, and with faith in the One True God who is Jesus Christ, the Redeemer and Saviour of the world.
With fatherly love and blessings,
Metropolitan Archbishop Sotirios
Primate of the Greek Orthodox Metropolis of Toronto (Canada)